Muka's farewell was this past Sunday, September 25th. He did amazing.
He kept debating a little over a week before the actual day, if he should go with the talk he had written or if he should just wing it and go with the spirit. He was a little nervous about the second option because how many people are actually able to get away with that successfully, right?! Lol. He opened a fast the night before and Sunday morning while getting ready to head to the church, he had a feeling to just leave his talk at home. To not take it. He was nervous about the prompting, but he went with it. Thank goodness for his faith in that prompting because from the first word to the last of his talk, he did great. The spirit lead him through his talk (: and Personally, the time went too fast, I could've kept listening to him if it were up to me. haha. But he spoke like a natural and the spirit was so strong. I was so proud of him.and so grateful (:
I had
so much
nerves waking up that day. I honestly can't tell you how much times I've pictured this particular sacrament meeting. Walking into the chapel I was so nervous, like literally my hands were shaking like crazy. (As if I would be the speaker or something.) Haha. The program began and the opening song was "Called to Serve." Now mind you again, I've been waiting for this Sunday to come..haha..so I, along with the choir started to sing the song, and before it even hit the chorus, I started crying. Lol. Omgosh, I had to tell myself to pull it together. Honestly, Muka hadn't even started and I was breaking down. Lol. (And it was not at all cause I was sad, it was a happy emotional. Muka's worked so hard for this!) I was able to keep it together through most the talk, give or take a moment or two. But it's okay cause I went prepared with water-proof mascara! (: hah.
For those of you wonderful people that voted, I went with the red dress for the church and for the eating after, I wore my short black dress. (Yes, I was a diva and did an outfit change for the eating. haha) Unfortunately, I forgot my camera and didn't get pictures from the eating that day. :(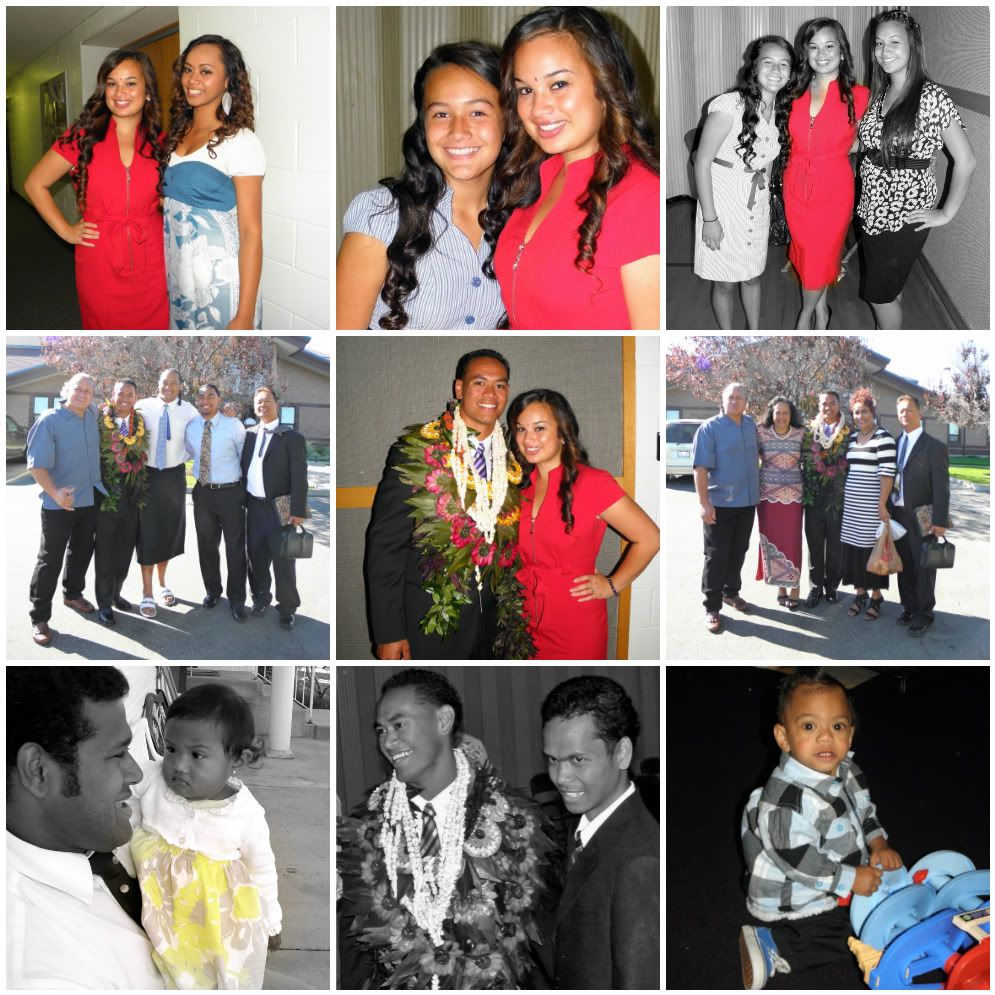 It was definitely a day to remember. I've never seen Muka so confident and happy. I've never seen someone preparing to go on a mission w/such a strong spirit and desire. I could never fully explain to him how much of an example he is to me and how grateful i am for that and for his part in my life. I can't wait for the people in Anaheim to feel the same as I do about him. He's going to be so amazing. (:
..Cass..